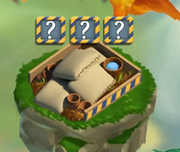 Roadblock are a means of advancing to the next episode when connected to Blossom Blast Saga through Facebook. Three tickets are needed from three different friends playing the game in order to proceed to the next episode. The alternative options to get to the next episode are buy 3 gold bars for one ticket, or by buying the access through the App Store or Google play store (or a place to get apps) for mobile devices.
Currently, tickets are no longer required to advance to the next episode, with the exception of Episode 2 and Episode 3. After passing episode 3, players do not need to use tickets to enter other worlds. However, roadblock is decreased one to only episode 2. This change has generally received positive feedback from players.
Community content is available under
CC-BY-SA
unless otherwise noted.